Welcome to the week! Here we are again with some tasty reading nuggets to see you through Monday - hope you enjoy them

This Wednesday, Andy'll be appearing on a panel at Runway East in London talking about Building & Scaling Tech Teams - see you there?

https://www.eventbrite.co.uk/e/ticking-boxes-for-building-and-scaling-tech-teams-tickets-32451306732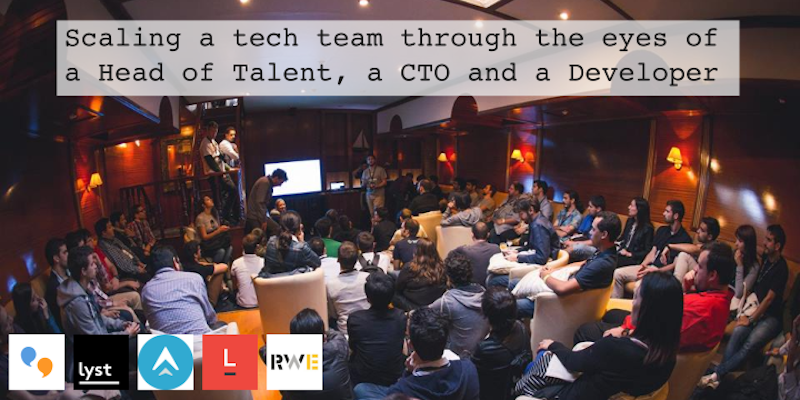 Junior Developers Workshop:

We'll also be partnering with Makers Academy on Thursday to give a 2-hour workshop around the use of Junior Developers, how to attract, hire and retain them, get the most value from them while providing a path to development at the same time. We'll challenge prior assumptions about the kind of work a junior can do, what they expect and how to use them to quickly build a high-performing product development team.

There are a few free slots available - drop me a line if you'd like to come!!



Cheers!

Andy at Saccade
Staff retention: what can (and should) a CTO do?
Developers are less likely to leave a team when work is satisfying, rewarding and enjoyable. They like to be led effectively, be inspired to work to the very highest standards, to be well managed and to feel valued.
Running a Manager Feedback Cycle
I just ran a thorough feedback cycle for the managers (leads) in my team. This is what it looked like. Motivation: It's hard to get feedback as a manager, the hope was that people would be more candid if they 1) submitted feedback anonymously 2) to someone else. Because we tend to amplify negative…
5 Leadership Lessons from Cyrus the Great
"Among his many achievements, this great leader of wisdom and virtue founded and extended the Persian Empire; conquered Babylon; freed 40,000 Jews from captivity; wrote mankind's first human rights charter; and ruled over those he had conquered with respect and benevolence."
A better way to interview software engineers
Problem-solving and getting things done are important, but ideally we'd also hire engineers who are great at API design, naming, testing, maintenance, scaling, extensibility, etc. — all of those…
As lead developer of Cucumber and author of The Cucumber Book, Matt gets asked to consult with organisations who want to introduce Behaviour-Driven Developme...
Case study: How complexity creeps in
Lately we've been on a bit of a tear internally working to eliminate operational complexity from our business. Complexity is like addiction… It comes on slowly, forming weak bonds that you can barely…
Building a Bank with Golang, Microservices and Containers: Matt Heath
At QCon London Matt Heath, Distributed Systems Engineer at Monzo Bank, presented "Building a Bank with Golang". Key takeaways included: Golang's focus on simplicity and readability in combination with excellent concurrency primitives make this a language well-suited for creating "high volume, low latency, distributed applications".
Chaos Cocktail Party (#61)


Actively identify, discuss, clarify and prioritize a number of actions


Everyone writes one card with an action that they think is important to do - the more specific (SMART), the better. Then team members go around and chat about the cards like in a cocktail party. Every chat pair discusses the actions on their two cards. Stop the chatting after 1 minute. Each chat pair splits 5 points between the two cards. More points go to the more important action. Organize 3 to 5 rounds of chats (depending on group size). At the end everyone adds up the points on their card. In the end the cards are ranked by points and the team decides how much can be done in the next iteration, pulling from the top.

Addendum: In many settings you might want to randomly switch the cards in the beginning and between discussions. In this way, neither of the point splitting parties has a stake in which of the cards gets more points.